Rivet Ravine

ロコットけいこく Rockot Valley


The entrance to Rivet Ravine.

Location:

Game:
Rivet Ravine
(Japanese:
ロコットけいこく
Rockot Valley) is a canyon
Dig Site
and is home to a mine cart shaft. Only Level 3
Fighters
and up are allowed access. This site introduces the character
McJunker
. There are many different types of
Vivosaurs
that can be found and acquired here. However, for the biggest dig site, it comes out as the shortest chapter. It undoubtedly has fossils of the most Vivosaurs, with a total of 32.
Secret areas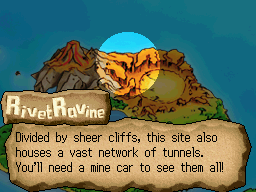 Mole's Secret Tunnel is home to Lemo and O'mel, the Mole Brothers. This tunnel can be found in Tunnel 4, in an enclosure. To progress, you must successfully complete the tasks, such as answering questions true or false, or opening chests in the right order. The Bonus Areas are two areas in the main area that are only accessible via the bridges that go down, not up, when making your way to the tunnels. They hide impressive
Fossil Rocks
. A
Pay-To-Dig
site is in Tunnel 1 and costs 4000
G
for each visit.
Vivosaurs
Main Site
Note: An asterisk (*) indicates a Vivosaur that is rare.
Bonus Area 1
Bonus Area 1 can be accessed after reaching Fighter Level 5.
Bonus Area 2
Tunnels
An asterisk (*) indicates a Vivosaur that is rare.
Tunnel 5
Tunnel 5 can be accessed after fixing McJunker's broken mine cart.
Pay-to-dig Site
The Rivet Ravine Pay-to-Dig Site can be accessed after reaching Fighter Level 7.
The Moles' Secret Tunnels can be accessed after becoming a Master Fighter.
Storyline
In the tunnels, you meet McJunker. He explains that his mine car, which leads to new fossils, has been trashed. You must go after his pliers and his wrench, using your upgraded sonar. However, BB soldiers appear whenever you dig one up. Once the tools are found, MCJunker requires you to clean his rusted tools. After successfully cleaning them he will ask you to go to Holt in the Junk Depot. Use a V-Raptor to defeat him and obtain the electrominite. Bring it back to McJunker, who fixes the car. In Tunnel 5, though, the BB Bandits are waiting. Battle Snivels and Rex in a row to beat the chapter and obtain the second tacky idol.
Trivia
Like Rainbow Canyon, Rivet Ravine has at least one vivosaur of each Element.
Blambeau can be found in Tunnel 2. The Hero is rewarded with 10,000G for capturing him.