#008: Guan

グアンロン Guanlong




Element:

Fire

Genus:

Group:

Era:

Length:

16 ft. - 4.9 m. (Medium)

Diet:

Discovered:

Class:

Transformation (Fossil Fighters)
Close-Range (Champions)
Guan
(Japanese:
グアンロン
Guanlong
) is a
Fire
-
Element
Vivosaur
that was introduced in
Fossil Fighters
.
Vivosaur Information
#008

Guan
Description

A rare Transformation-class vivosaur, Guan also has excellent Attack support. Learn Great Unmasking to transform into a T-Rex!

Guan gains strong support effects as it goes up in rank. It can also learn Great Unmasking and transform into a T-Rex!
Fossil Museum/Fossilary
Said to be an ancestor of the tyrannosaurus.
Notable Owners: Saurhead, Rosie
Game locations
Stats and Skills (Max Rank)
Stats

340

59

14

50

20
Skills
Damage
Cost
Effect
Long Fangs
77
60
Guanlong Combo
90
120
Guanlong Fury
106
180
Great Unmasking
---
360
Transform to T-Rex
Success rate: 100%
Scorch Breath
117
250
Team Skill: Attack both AZ and SZ

Own AZ


90%

0%

0%

0%
Super Revival forms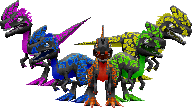 | | | | | |
| --- | --- | --- | --- | --- |
| Silver Head Fossil | Silver Body Fossil | Silver Arm Fossil | Silver Leg Fossil | Gold Fossil |
| | | | | |
| | | | | |
| | | | | |
|  360 20 |  360 20 |  360 20 | 360 20 | 440 100 |
|  64  5 |  59 |  69  10 |  59 |  64  5 |
|  14 |  24  10 |  14 |  19  5 |  19  5 |
| 55  5 |  50 |  50 |  50 | |
|  20 |  20 |  20 | | |
Trivia
Gallery
Vivosaurs

Fossil Fighters
Fossil Fighters
Unlockables
Fossil Fighters: Champions
Unlockables
Super Evolvers
Fossil Fighters: Frontier