#007: Alectro

アレクトロ Alectro




Element:

Water

Genus:

Group:

Era:

Length:

19 ft. - 5.8 m. (Medium)

Diet:

Discovered:

Class:

Attack (Fossil Fighters)
Close-Range (Champions)
Alectro
(Japanese:
アレクトロ
Alectro
) is a
Water
-
Element
Vivosaur
that was introduced in
Fossil Fighters
.
Vivosaur Information
#007

Alectro
Description

Well-equipped with scare and poison skills, the versatile Alectro also features Auto Counter to punish attackers.

Alectro is a dependable vivosaur whose Auto Counter skill punishes attackers. It also learns a move that poisons enemies.
Fossil Museum/Fossilary
A cone-shaped body type draws attention to the thick back legs.
Game locations
Stats and Skills (Max Rank)
Stats

420

72

32

50

20
Skills
Damage
Cost
Effect
Blue Fang
87
50
Alectro Combo
96
90
Scare
Success rate: 30%
Poison Breath
---
180
Poison
Success rate: 100%
Aqua Cannon
134
270
Team Skill: Attack both AZ and SZ


---

---

---

---
Fossil Rocks
| Type | Shape | Durability | Buster Point? |
| --- | --- | --- | --- |
| Head | | Frail | No |
| Body | | | |
| Arms | | | |
| Legs | | | |
Super Revival forms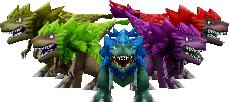 | | | | | |
| --- | --- | --- | --- | --- |
| Silver Head Fossil | Silver Body Fossil | Silver Arm Fossil | Silver Leg Fossil | Gold Fossil |
| | | | | |
| | | | | |
| | | | | |
|  440 20 |  440 20 |  440 20 |  440 20 |  520 100 |
|  77  5 |  72 |  82  10 |  72 |  77  5 |
| 32 |  42  10 |  32 |  37  5 |  37  5 |
| 55  5 |  50 |  50 |  50 | |
|  14 |  14 |  14 | | |
Trivia
Gallery
Vivosaurs

Fossil Fighters
Fossil Fighters
Unlockables
Fossil Fighters: Champions
Unlockables
Super Evolvers
Fossil Fighters: Frontier